Vasco Benelux
Vasco is a leading manufacturer of design radiators, ventilation, underfloor heating and cooling. They are the market leader in bathroom radiators in the Benelux.
The search for alternative materials, innovative designs and innovative production processes has already earned Vasco numerous international awards and prizes. 
To make the service even better, there was a need for new software with which maintenance technicians can diagnose the installations. Technicians have this software on a laptop, which they connect to the installations via a cable. 
The software gives the technicians insight into parameters such as the temperature, the air volume, moisture content, the amount of CO2, and so on. This makes it easier for the technicians to see whether the device is still working correctly. It is possible to adjust the bypass control so that, for example, a ventilation unit stops blowing air earlier. The software also gives error messages if the hardware no longer functions correctly. The automatically generated log file allows the aftersales department to further investigate frequently occurring problems. 
Vasco was looking for a flexible partner who could unburden the company and draw up a specification document itself. They have found the right partner in BearTree.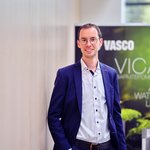 A major challenge in the project was to satisfy the large user base. The software is used by many professionals, also in other countries. Vasco therefore received a lot of input and feedback. BearTree helped the customer in this by adding structure to the project. 
"Roland from BearTree can come up with a solution very quickly because he immediately understands the challenge. After the project has been completed, he calls after a few months to ask if everything is still working properly. We appreciated that very much."